Wow! August has almost arrived.The lazy and carefree days of summer are coming to a close and we need to transition ourselves back into the school routine.
Two key aspects to student success are getting enough sleep and keeping to a consistent schedule. Students thrive on routines because these give them a sense of structure,purpose, and predictability.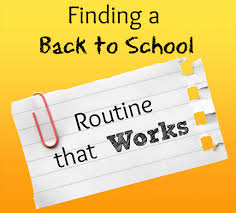 Here are some ways to get started:
Slowly move bedtimes and wakeup times back to what they should be during the school year. You can do this gradually over one or two weeks. If meal times or other regular routines have changed over the summer vacation, reset those as well.

Block out the school schedule (holidays, test days, etc.) on a calendar. For parents, a family calendar in a prominent place helps everyone see what's going on at a glance, including after school activities and childcare. College students should map out their class schedule for the next semester and also block out times for studying, meal, exercise, and other essentials, as this 8-hour college day planner recommends.

Figure out where you're going. One of the biggest stressors at the start of school is if you're going to a new building or your classes are in different locations than last year. College students should look at a campus map and plot out how they're going to get from one place to the next, based on their schedule. Other students/parents should know the route to school, where the classrooms are, and how long it takes to get there.
For students that are attending a new school or transitioning to middle school or high school, this can be a nervous time. It's very helpful to go to the school and walk around and have the student look for his classes, the restrooms, and lockers. Another suggestion could be for an older sibling or family friend to take the student around the campus. It's always great to have to have your own personal tour guide!
Speaking of transitions, I remember my first day of high school. I went on a tour of the high school the last week of my eighth grade year and then I went on the campus in late summer when I received my schedule. It was comforting for me to make a plan for my first day. I drew a map, and just kept it in my pocket, and planned on meeting my friend at a specific place for lunch. The first day wasn't as bad as I thought it was going to be, but I think that with our students, when we give them opportunities to plan independently and explore on their own, we allow them to ease their own anxiety by making plans as I did.